Welcome to Buchanan Angus Ranch, we are 4th generation cattle ranchers and have been in the cattle business for a lifetime, 50+yrs. Our family had a large herd of commercial cattle,which was sold in the late 90's.
We have been focusing on the "Algoma" Angus cows, building and improving our herd since 1965. Not being newcomers to the cattle business we plan on continuing to raise quality Angus cattle that excel in todays market.
This ranch has be using AI since it was accepted by the Angus Association and Embryo transfer technology since 1987. The cows in the Algoma herd are the result of years of selective breeding with generations of AI sires in their pedigrees.
Our cows are high volume, big ribbed females in a moderate framed package. Each spring they are turned out to pasture with young calves and every fall they return with heavy calves, all while they have kept their body condition. This year being a high feed cost year, that is a very important trait to have in a cow herd. Performance does not start at the feed bunk, calves should have growth prior to weaning, without creep feed, and continue gaining after weaning, without breaking the bank.
Buchanan Angus Ranch is not a hobby, it is a livelihood. Angus Cattle are our only business, so they have to work hard and perform or they do not stay on this ranch, which has been in the family since 1894.
We have sold donors, show heifers, foundation females and embryos that have gone on to work for their new owners, carrying on the "Algoma" tradition with traits that they have become known for.


THIS IS A HANDS ON CATTLE OPERATION. WE DO ALL THE WORK HERE ON OUR RANCH. BOB AND KATHLEEN WITH THE HELP OF RECENT HIRE, DAYNE JOACHIM AND OUR DOGS DO THE DAILY CHORES ON THE RANCH. ON THE BIG WORK LOAD DAYS THE FAMILY SHOWS UP TO OFFER THEIR HELP. WE DO THE BREEDING, CALVING, FEEDING,REPAIRS AND MAINTENCE ON THE EQUIPMENT AND FACILITIES, BULL SALE PREP AND THE BULL SALE. IF YOU WANT TO KNOW SOMETHING ABOUT WHAT IS HAPPENING ON THE RANCH WE HAVE THE ANSWERS YOU NEED.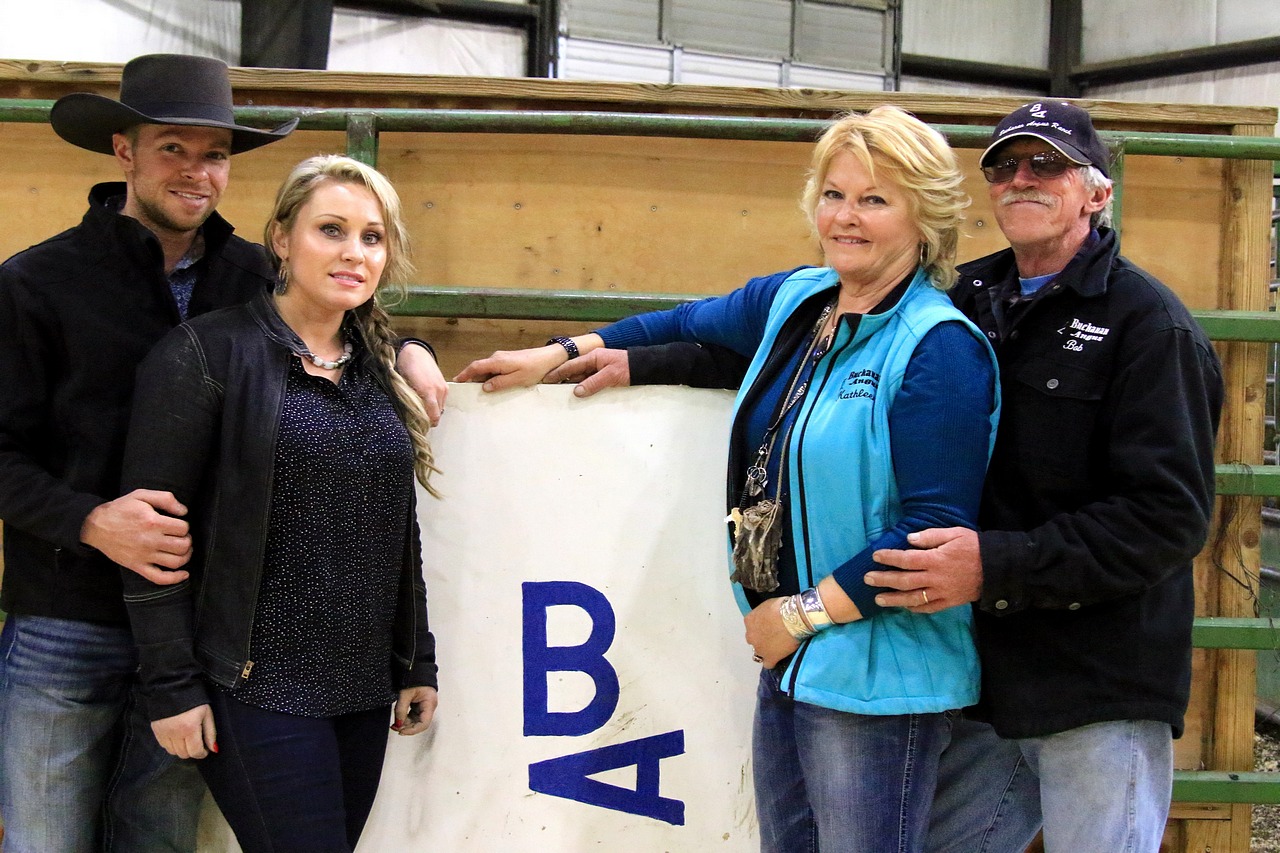 Billy, Elizabeth, Kathleen and Robert Buchanan
Kathleen, Robert Buchanan and family
4th generation cattle ranchers who started raising Registered Angus in 1965.
Still ranching on the same ranch that was homesteaded in 1894.
The dogs so love doing their jobs, Great help.
Bob and his help heading out to the fields.
Bob clipping bulls before sale.